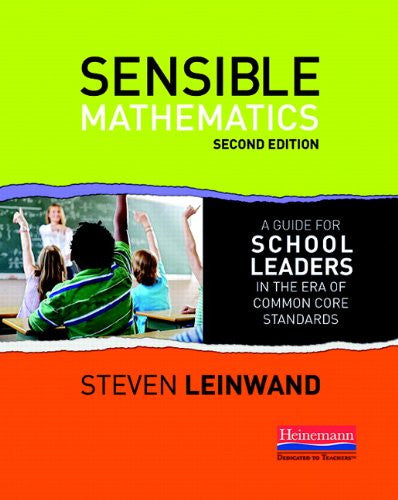 Sensible Mathematics Second Edition: A Guide for School Leaders in the Era of Common Core State Standards
---
Author: Steven Leinwand
Brand: Brand: Heinemann
Edition: 2nd Revised ed.
Features:
Used Book in Good Condition
ISBN: 0325043825
Number Of Pages: 144
Publisher: Heinemann
Details:
"Steven Leinwand has seen sensible mathematics in hundreds of classrooms around the world in his role as a teacher, a researcher, and a school leader. Best of all for us, he knows how to articulate those perspectives with clarity and wit."
-Dan Meyer, International speaker on mathematics education and one of Tech & Learning's 30 Leaders of the Future
Providing effective leadership for school mathematics programs is particularly challenging in an era of both ambitious Common Core State Standards and unprecedented pressure to raise mathematics achievement. In this updated edition of the bestselling Sensible Mathematics, Steve Leinwand provides principals, teacher leaders, math coaches and administrators with specific guidance on how to make the necessary shifts in curriculum, instruction, assessment, and professional development to meet and exceed the Common Core State Standards in mathematics. Even more important, he shows us why these changes are so urgently needed if we truly are to prepare students to become mathematical thinkers in a 21st century world.
Making these critical shifts requires strong, clear, and effective leadership. Sensible Mathematics serves as a guiding light through the sea of change and provides a broad array of practical strategies for implementing the standards, as well as how-to game plans for overcoming obstacles and challenges. Other topics of discussion include:
Making the case for change: strategies, ammunition, and compelling examples
10 characteristics of sensible, sense-making mathematics
Math Coaches: how to recruit the best and support their efforts
Intervention: providing effective support services
Technology and instruction: providing access for teachers and students
15 key components of a high performance mathematics program
Success stories: school leaders who made a difference
Sensible Mathematics is a call-to-arms for positive, realistic change that empowers teachers and prepares students for our changing world. Make a difference-move your school mathematics program into the 21st century.
---
Share this Product
---
More from this collection